The Allegrezza String Quartet
Providing Music in Bristol and the South West, Cardiff and South Wales
Members of the Allegrezza String Quartet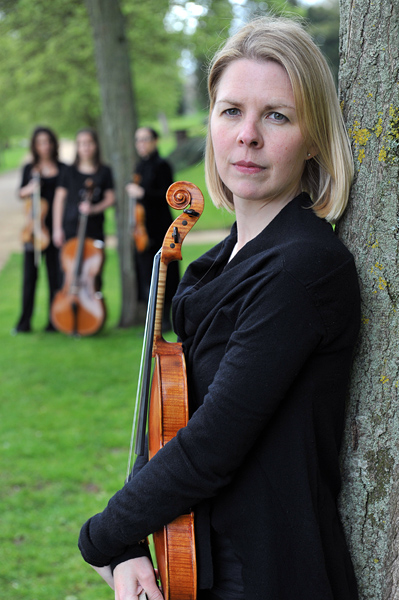 Rachel Wilson-Dickson - Violin
Born in Nottingham, Rachel began playing the violin at the age of 8. She won an Advanced Tuition Place Scholarship that she held for the duration of her education and gave many opportunities to play with, and lead, all of her music school and county orchestras.

Rachel studied music at York University winning a scholarship from The Foundation for Sport and the Arts. She went on to lead the University Symphony, Chamber and Beethoven Orchestra. 'Spare' time in holidays gave her the opportunity to play with the Britten Peers Orchestra and Jersey Symphony Orchestra. Rachel's career has seen her perform on the major stages in the UK and Europe including the London Festival Hall, The Royal Albert Hall, Purcell Room, Nottingham Royal Centre, St David's Hall and the Wales Millennium Centre with orchestras, chamber ensembles, folk ensembles and even a 9 piece Balkan band.
Based in the border lands between South Wales and England, Rachel now works as a mother of two young and very energetic boys! When allowed a day off she still performs as a freelance violinist and session musician. Her day to day life as a musician is diverse but she performs regularly with the Welsh Baroque Orchestra and Concerto Gallese. She is also a keen violin teacher and hopes to pass on her enthusiasm for music.
Lu Jeffery- Violin
Lu studied at Dartington College Of Arts and has a BA Hons in Music and Theatre. During her time at Dartington she was one of ten UK musicians chosen to study at the Paris Conservatoire under Sir Colin Davies.

After graduating Lu toured internationally as featured solo violinist with Spirit of the Dance, One World and Gaelforce Dance shows. Lu has performed in some of the world's top venues including Wembley, The Albert Hall, The Barbican and The Nassau Coliseum in New York. After several years touring Europe, the USA and Asia Lu decided to return to Bristol and pursue a musical career closer to home. Lu has recorded for several bands including Massive Attack, The Fratellis and Figure 5 and features on a number of film and TV soundtracks including Luc Bessons 'Unleashed' and Bullet Boy for the BBC and ITV's Wire In The Blood.
Lu is now a freelance musician working for, amongst others, The British Philharmonic Concert Orchestra, The Rosetta String Trio and the Allegrezza quartet. Alongside performing Lu teaches violin and piano and runs the Luna Music Service.
Rebecca Hall - Viola
After completing her undergraduate studies at the Royal Welsh College of Music and Drama in Cardiff, Rebecca was offered a scholarship by the Laura Ashley foundation to continue her studies at post graduate level, during which time she was Graduate Assistant to the head of strings. She was awarded a scholarship to participate in the Bowdoin Festival, U.S.A, as well as the Chandos Memorial Bursary to become a member of the Britten Pears Young Artists programme where she played principal viola.

Rebecca has played with Welsh National Opera, both on trial and as an extra player, as well as touring with Cape Town Opera. Other freelance work includes the National Symphony Orchestra, National Chamber Orchestra of Wales, Milton Keynes City Orchestra, Swansea City Opera, the Bristol Ensemble, Bath Philharmonia and the West of England Philharmonic Orchestra. She has recorded for the BBC and S4C, and has performed with artists such as Anton du Beke and Erin Boag from Strictly Come Dancing, Bryn Terfel and Russell Watson.
Kate Ayres - Cello
Kate Ayres is principal cellist of the Welsh Baroque Orchestra and plays with the Amati and Allegrezza String Quartets, as well as playing both Baroque and modern cello on a freelance basis. She has performed with leading musicians such as Catherine Mackintosh, Andrew Wilson-Dickson, Margaret Faultless, James Bowman and Crispian Steel-Perkins in venues throughout England, Wales and Northern Ireland. Recent performances have seen her tour Ireland and Croatia, appear on the radio and make a CD recording with Buddug Verona James. As well as a busy performance schedule she plays an active part in music education, involving education workshops, class tuition and instrumental teaching at a variety of levels. Following a music degree at Bristol University she completed her MMus in performance at the Royal Welsh College of Music and Drama in 2004.
There may be occasions when one of our regular members is unable to play at an event. If this is the case we have a list of deputies who we can ask to play instead. We have worked regularly with each of these players. They are all familiar with our repertoire and are highly experienced professional musicians, so there will be no compromise to our usual standard.
info@allegrezza.co.uk| 07815 613489